Description
0.0 Souls Saved Bumper Sticker. We've all been sitting in traffic and been behind a Subaru Outback with a "look at me, I am healthy, I run and I hate Trump! 13.1 of 26.2" window decal, right? This prompted some MAGA lovers to have "0.0" stickers printed as a response, kinda like saying "I ran 0.0 today, I eat black angus double cheeseburgers and I voted for Trump, USA! USA!"
---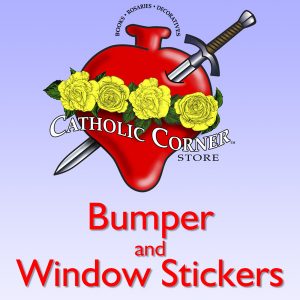 ---
We've taken that concept and created a decidedly Catholic, pre-1962 Missal window decal:  The 0.0 Souls Saved – Outside The Catholic Church stickers. We pray you'll don one on your Nissan NV Passenger van, with 8 kinds riding shotgun inside!
BUY MORE – SAVE MORE!
WHAT A DEAL! Buy 5 or more and save 33%! Now your whole, "we are with Susan From The Parish Council" group of regular Rosary prayers! Just add 5 stickers to your cart and go to "See Cart" and you'll see the discount applied automatically!