The Mary & Manly Little Christmas Grand Prizes
Remember all Grand Prize Tickets and Grand Prizes won can be "Paid Forward" to any recipient the purchaser or winner would like so be Charitable this Advent!
"Mary" – Grand Prize For Ladies
This package is for the woman in your life who is looking to work on her faith in the upcoming year. Prizes included are:
"The Summa Domestica: Order and Wonder in Family Life" 3 book set by Lelia Lawler
A 2024 Liturgical Daily Planner From Blessed Is She!
A Beautiful 1 of a kind Spanish Mantilla Veil from Veils By Lily
A beautiful , custom make rosary, crafted by The Little Bayou Rosary Company in Madisonville, LA.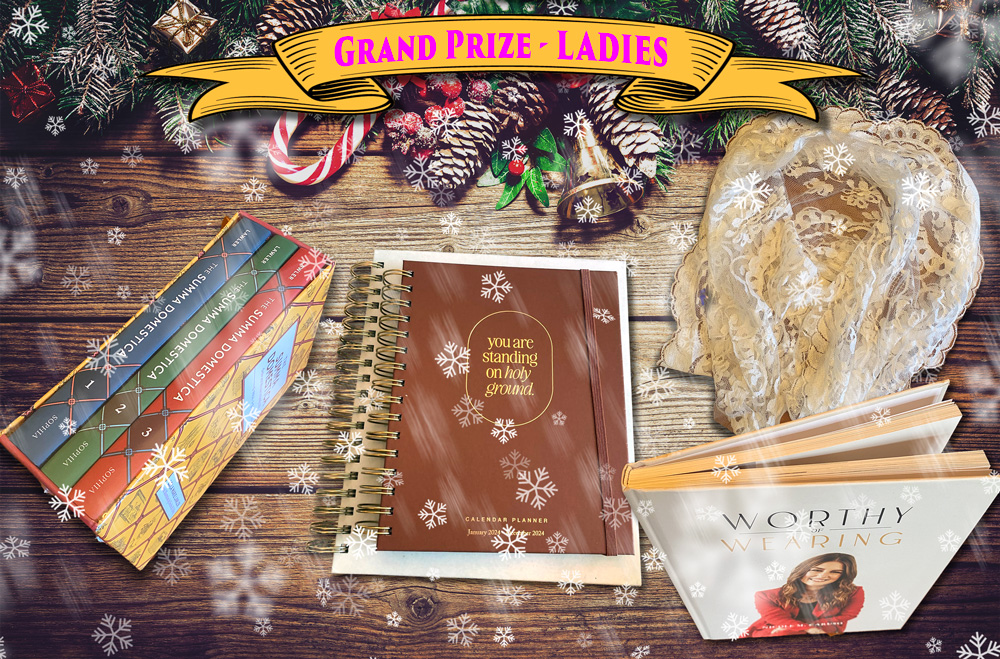 "Mary" Grand Prize For Girls
This family centric package is for the mother and daughter who want to share time cooking and playing. Prizes included are:
A beautiful Dolls From Heaven Mary of Nazareth doll. Includes the book "She is Mary" and a traditional blue dress.
Daring Book For Girls
Make Your Own Rosaries! Starter Kit For Girls
A Hand Made Miraculous Medal Bracelet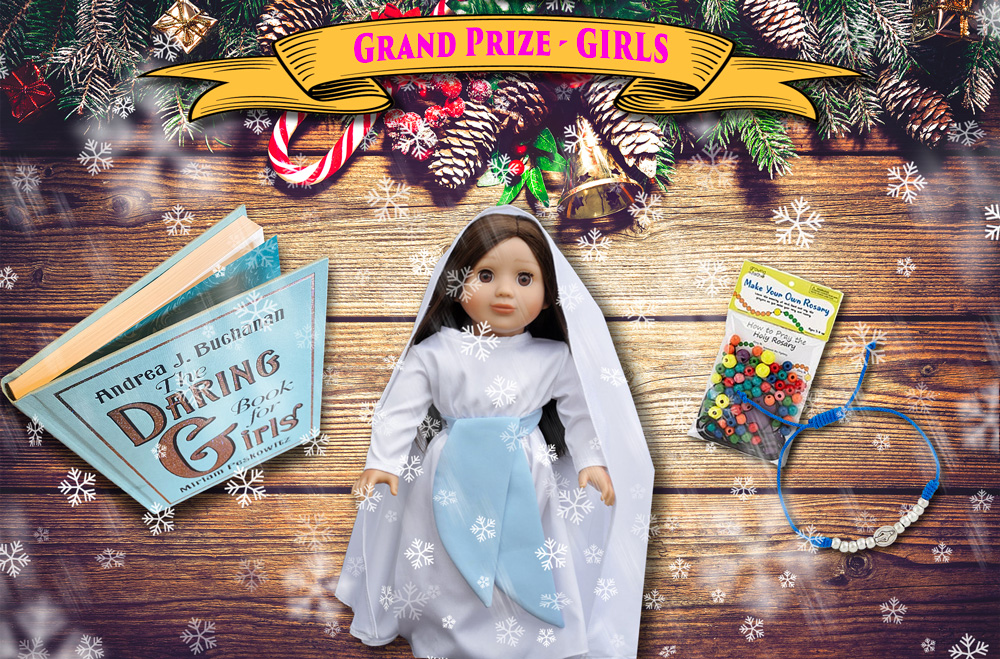 "Manly" Grand Prize For Boys
This family centric package is for the father and son who want to share time learning to shoot and cook. Prizes included are:
A Daisy Red Ryder BB Gun for Dad and a Daisy Red Ryder BB Gun for Junior. Don't shoot your eye out!!
A Daisy Red Ryder BB Gun Starter Kit includes carrying case, 2 barrels of BB's targets and more (not shown)
The Dangerous Book For Boys
Chronicles of The Saints Volumes 1-5!
1 Bottle of World famous KingDude's Beast and Butt Rub.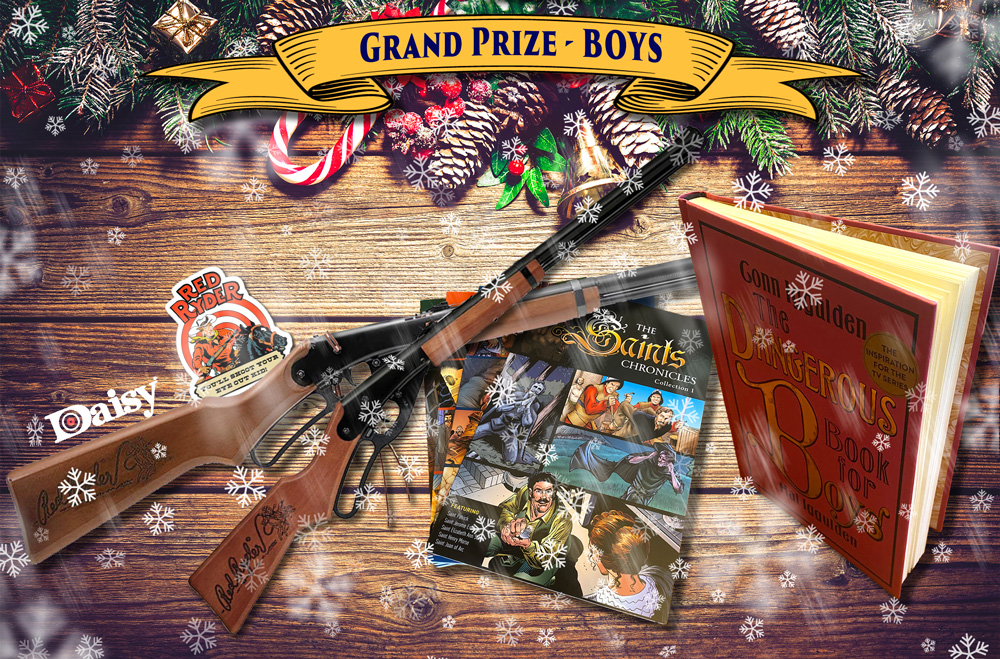 "Manly" Grand Prize For Men
This package is for the man looking to enjoy the finer things in life, Great Food, Great Cigars and Proper, Masculine Attire!. Prizes included are:
A 7 oz Micro Fleece Full Frontal Zipper with Mancipium Mariæ "A Knight Kneels" Embroidery
The Books 12 Rules For Manliness and Slaying Dragons
A beautiful, custom made "CRUSADER" rosary, from Rugged Rosaries.
A custom engraved Walsingham West Project McClure Cutting Boards maple cutting board.
A set of 4 custom engraved Walsingham West slate coasters.
World famous KingDude Beast and Butt Rub.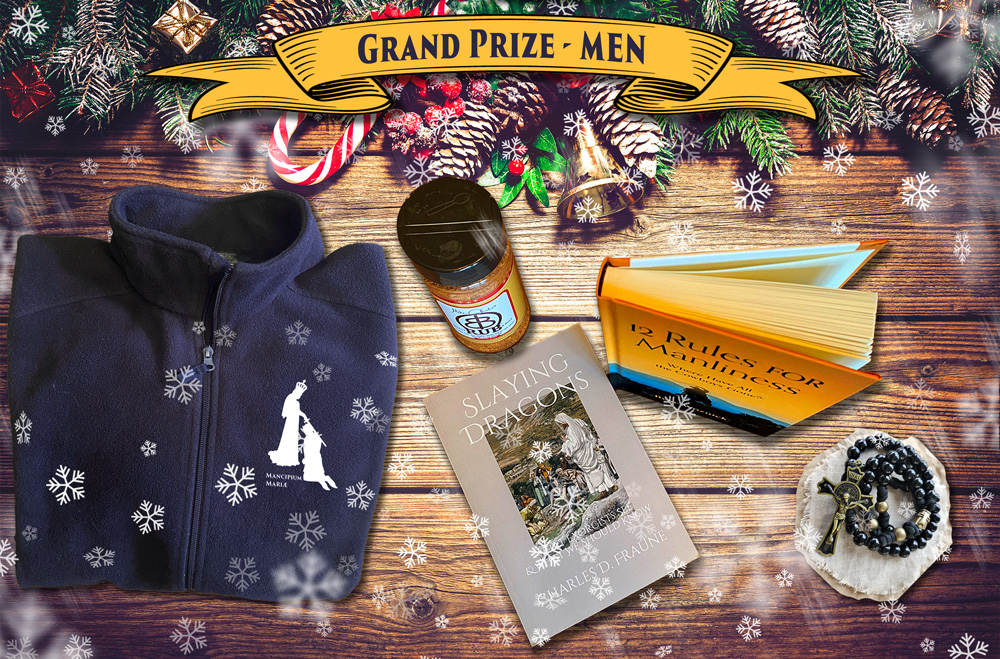 The Prayer Plaque Paque
These beautiful etchings of the Ave Maria, Pater Noster and Gloria on gorgeous planks of Cherry wood come complete with a Pray Latin Prayer Card set, a St Therese of Liseux prayer card a Norman Faucheux Prayer Card set and more. The plaques have "keyhole" slots drilled/carved into their backsides and are ready for framing. Sanctify and Beautify your home with this ultimate Prayer Plaque & Prayer Card Set!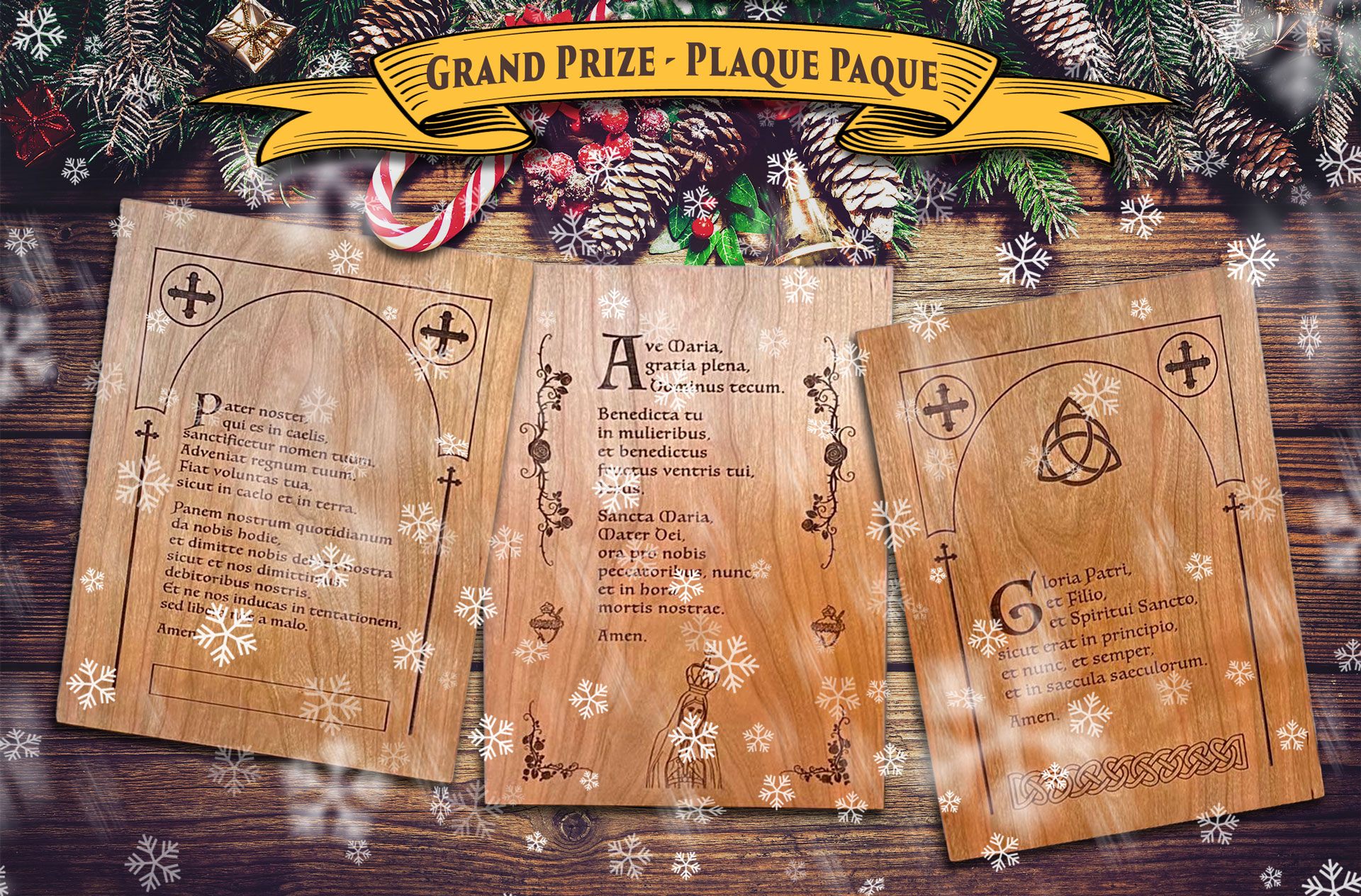 The Coffee Lovers Gourmet Brew Festival Set!
For the coffee snob who is in search of that perfect cup of morning coffee served in a perfect mug from a perfect French Press, here you go! We start with a 1 Walsingham West Project Hand Made 16oz Mug which you can fill up with coffee fresh, French Press brewed in a Poliviar, 34 oz Press and thermos! We are throwing in 3, 12 oz bags of our favorite whole bean coffees!
1 12 Oz Bag of Twin Pikes "Cafe St. Louis" Blend
1 12 Oz Bag Capuchin Dark Roast
1 12 Oz Bag Abbey Roast Roma
This set also comes with a Glory Bee™ handmade St. Drago Coffee scoop!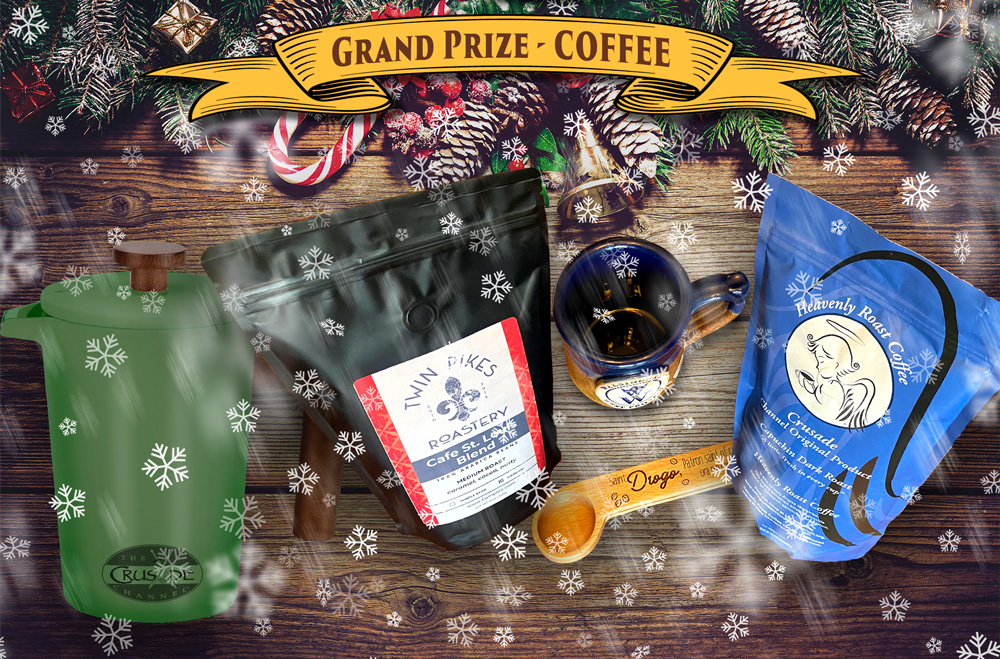 Surprise Me Grand Prize
If you just can't decide which prize package you want to choose, this ticket package gets you 1 ticket in each prize package. 6 tickets for $50.00