Description
El Rey Dude Corona Cigars Product Specifications:
1, 3  or 10 cigars in the pack, you choose!
Shape: Corona
Size: 44×5 1/4″
Filler: Two to Three year old Nicaraguan blend of seco, viso, & ligero
Wrapper: Connecticut Shade
Flavor: Mild to medium cigar with light finish
Made in USA
Try MIke's other cigars and specials!
The Bellicoso NOW ON SALE FOR JUST $4.95!!
The "indestructible" 5 cigar, autographed humidor.
The story of El Rey Dude Corona Cigars. When I was looking for a motto for the brand I tossed around a lot of slogans then it hit me: Let's say it in Latin! So the Latin is Fumamus Libertatem translated this means "We Smoke [to] Liberty". A classic Cuban style, belicoso or figurado cigar with a shiny, gorgeous Connecticut Broadleaf, Maduro wrapper that is oily to the touch. Beautifully hand-rolled and shaped right here in New Orleans by the Cigar Factor of New Orleans, these cigars have a spicy flavor that is mild, creamy and full of aromatic flavor. An excellent cigar for those who prefer a soothing, mild smoke. Our manufacturer imports some of the finest Nicaraguan tobaccos for the filler and a spicy Indonesian leaf for the binder.
The Process
100% Nicaraguan Filler that is 2-3 Years Old
The Filler is rolled into the Indonesian Binder leaf
The Body of the cigar is then placed inside of the Cigar Molds.
After the pressing stage (up to 4 hrs of press time)
The Cigar Maker will put the final Connecticut Shade wrapper on the Cigar
The Cigar Maker will place them in bundles of 50
At this point the Cigars are aged in the humidor for approx. 4 weeks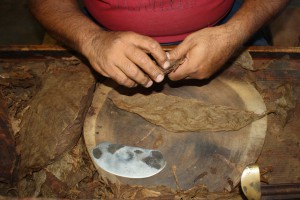 *All my el Rey Dude Cigars now ship with a FREE – Water Pillows™disposable humidifier pack to preserve freshness during shipment*