Description
Make NOLA Catholic Again Bumper Sticker. Some may wonder just when NOLA i.e. New Orleans, LA was a Catholic city? The fact is she was founded as one and remains so. From a recent speech I gave here's some little know, WhoDat, Catholic history!
The city of New Orleans has a magnificent history of being one of the most Catholics cities in all the United States! In fact before she was known as the "Crescent City" or "The Big Easy" she was known "as the cradle of the Catholic Church in the Mississippi River Valley." She is home to the oldest standing Catholic Church on this continent. She is home to the oldest still functioning school, a Catholic school, Ursuline Academy. It was here that devotion to The Holy Face was approved for use outside of Tours France. And it is here that the most famous event the world over is observed every year, Mardi Gras. In its origin as a Catholic feast day it is properly called "Carnival" which comes from the Latin "carne vale" or "goodbye to meat"!
---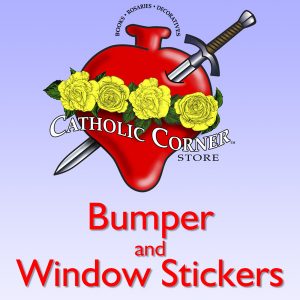 ---
And here's some more of that wonderful history the Make NOLA Catholic Again campaign aims to restore!
In October 1938 the city of New Orleans hosted the Eighth National Eucharistic Congress of America. At the conclusion of this magnificent, Catholic event, which concluded just a few paces down the street from where we stand; there was a Eucharistic procession that made its way down Canal Street. It is estimated that over 100,000 New Orleanians including 35,000 Catholic school children, marched in or watched this magnificent procession of the Sacred, Blessed, Body, Soul and Divinity of our Lord Jesus Christ.
The NOLA Sticker was in action in New Orleans recently, here's the story!
Samuel Adams once said of small groups of committed patriots.
It does not take a majority to prevail . . . but rather an irate, tireless minority, keen on setting brushfires of freedom in the minds of men.
It is a historical fact that the American Revolution was fought by a miniscule per cent of the colony's populations and that even smaller numbers of men populated the legislatures that voted to send men to Philadelphia in June-July of 1776. In June of 2019, Our Lady of Prompt Succor called forth a prayer regiment of 47 CRUSADERS to reclaim New Orleans as Her Son's kingdom with Her at His right hand. Saint Pio said it best.
Some people are so foolish that they think they can go through life without the help of the Blessed Mother. Love the Madonna and pray the rosary, for her Rosary is the weapon against the evils of the world today. All graces given by God pass through the Blessed Mother. -Saint Padre Pio
Our Lady of Prompt Succor-Little Sweetheart, oremus!